HR Education Network is proud to partner with expert practitioners, instructors, and organizations to produce the highest quality online courses for HR Recertification and HR Test Preparation. Learn a little bit about our content-creating friends!
---
Andy Sexton – ProActive Response Group
Andy Sexton spent 12 years with the Greenville County Sheriff's office in South Carolina, where he held the rank of Uniform Patrol Sergeant. During his time with the Greenville County Sheriff's Office, Andy gained vast experience in criminal investigation, including armed robbery and homicide.
Andy served on the training committee for Greenville County Sheriff's Office. This committee develops and implements training for Greenville County Deputies. Andy was also chosen to assist in the creation and implementation of the Greenville County Sheriff's active shooter response curriculum.
Anthony P. Howard, SPHR, SHRM-SCP/HR Certified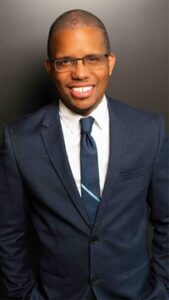 Anthony P. Howard is an HR Leader who works with HR professionals at all levels in finding the value and pathway to certification. He believes through the power of certification, you can increase your confidence, marketability and value. Anthony has an 18 year history of progressive success piloting large-scale, global initiatives driving organizational change and attainment of goals in diverse environments including from highly regulated FDA medical devices industry to unionized environments.
Amy Gomez, SPHR, SHRM-SCP
Amy Gomez is certified as a Senior Professional in Human Resources (SPHR & SHRM-SCP) and achieved those credentials by sitting for the exams in 2020 and 2019. Amy has taught HR test preparation courses both in-person and virtually.
During her career she has worked for Fortune 200 and medium sized companies in the hospitality and service industries. She is currently the Director of Human Resources for a fast-growing customer focused retail company.
Chad Ayers – ProActive Response Group
Chad Ayers served as a Sheriff's Deputy for Greenville County in South Carolina for 12 years. During his time as a Deputy in Greenville County, Chad worked undercover in numerous federal and state investigations, performing in high-pressure environments.
Chad was a member of the SWAT team, where he served as an assistant team leader. He is experienced in hostage negotiations and rescue as well as active shooter events. Chad also assisted in the creation and implementation of the Greenville County Sheriff's Office active shooter response program.
Charla Welch
Charla is a former practicing attorney who transitioned to HR. She has experience both in-house and as an external counselor, with extensive expertise in Employee Relations (including performance management, discipline, dispute resolution, labor negotiations, investigations and compliance), Policy & Process Design, and Training. Since moving from California to Austin five years ago, Charla has been consulting with numerous organizations of all sizes across multiple industries on a wide range of HR concerns
Executive Education, Inc.
Executive Education, Inc. is dedicated to serving the continuing education needs of corporate management and board members. They are a group of experienced CEOs, COOs and CFOs, all with advanced business credentials such as MBA, CPA, or CMA who can bring decades of real world experience to your management or board event. Their seminar discussion leaders have years of public speaking experience, make extensive use of the case method, and provide ample opportunity for group discussion. Executive Education seminars are thought provoking, intellectually stimulating and fun!
James Lindell
James (Jimmy) T. Lindell is President of a Wisconsin-based provider of strategic and financial consulting, professional speaking, training, and executive coaching. Jim has an extensive background in senior management including positions as Chief Financial Officer, Corporate Controller and Corporate Assistant Controller. Jim has worked with a variety of industries including: manufacturing, health care, not-for-profit, distribution, and food processing. He has participated in more than 50 M&A projects.
Jeff Kortes
Jeff has more than 25 years experience in human resources.  He has worked at companies that specialize in manufacturing, construction, and software development.  During his career he has worked to recruit, retain and develop employees, at companies including ConAgra Foods, SPX, Midas International and American Crystal Sugar.
Jeff is the founder of Human Asset Management LLC, which helps organizations to recruit, engage, develop and retain talent.  He is a member of the National Speakers Association (NSA) and a frequent speaker on the topic of loyalty, employee retention, recruitment and culture building.
Jill Schiefelbein
Jill Schiefelbein, The Dynamic Communicator®, thrives at the intersection of communication, education, and technology. From analyzing classified documents obtained from military raids of terrorist camps to assess jihad messaging strategies, to teaching business communication for 11 years at the largest university in the country, to starting and managing an online education office serving 60,000+ students, to her own award-winning entrepreneurial ventures, Jill successfully creates and executes communication strategies help people and companies solve problems, retain and develop consumers, and enhance the bottom line.
Julie Ann Sullivan
Julie Ann Sullivan works with organizations that want to create a workplace environment where people are productive, engaged and appreciated. Julie Ann seeks to bring a more positive and productive environment into every organization she works with. Julie Ann is a communication specialist, collaboration strategist and change steward. She is the Founder of Learning Never Ends, a company whose purpose is to create a more positive culture, one person at a time.
Jonathan Robinson
Jonathan Robinson is a psychotherapist, best-selling author of ten books, and a professional speaker from Northern California. For the past 30 years he has spoken to dozens of Fortune 500 companies including Google, Microsoft, Dell Computer, Coca-Cola, and Fed-Ex. Mr. Robinson has made numerous appearances on the Oprah show and CNN, as well as other national TV talk shows. He has reached over 100 million people around the world, and is known for providing his audiences with immediately useful information presented in a fun and entertaining manner.
K2 Enterprises
K2's goal is to produce and deliver the highest quality technology seminars and conferences available to business professionals. They work cooperatively with professional organizations (such as state CPA societies and associations of Chartered Accountants) and provides consulting services and advice on technology. They make every effort to maintain a high level of integrity, family values, and friendship among all involved.
Kelly Simants
Kelly has over 20 years of experience in the Human Resources field, with a true passion for people. Kelly is a certified SPHR, as well as a SHRM-SCP. Kelly's goal is to not only serve as an HR Business Partner to drive strategic direction and culture, but to lead and promote organizational change, manage the implementation and execution of HR initiatives, and to promote the role of HR as a key business partner.
Kimer Moore
Kimer Moore is a dedicated, results-driven Human Resources Leader with more than nineteen years in working in HR.  She has held various HR Leadership & Total Rewards roles at Anthelio Healthcare, Michaels Stores Inc., Samsung, and Ericsson Inc. Kimer has led many Compensation, Benefits, HR System and process initiatives throughout her career. During her time at Anthelio she was promoted to VP of HR and had oversight on various M&A activities and core HR strategies in performance management, succession planning, recruiting, and employee engagement.In 2017, Kimer started her consulting practice, Capriccio HR.  in 2017 Kimer started an independent consulting practice Capriccio offering strategic HR and Total Rewards services and solutions. Kimer has a Bachelor's Degree in Music from the University of North Texas and an MBA in Human Resources Management from Amberton University.  She is actively engaged in the greater HR community and she has served as a volunteer leader with both the DallasHR and HRSouthwest organizations.
Kristine Conway, MS, PCC
Kristine transforms leaders that fix into leaders that coach.
Leaders are often rewarded for 'fixing' however, more effective and longer-lasting solutions can be generated through coaching those they lead instead.  Kristine not only helps leaders increase their self-awareness and uncover their own barriers to success, she also transfers skills to her clients so that they are able to coach others for long-lasting success.
Kristine's coaching philosophy stems from a strong foundation in change management and emotional intelligence models.
Lisa Braithwaite, M.A
Before starting her public speaking coaching business in 2005, Lisa Braithwaite, a Santa Barbara native and Cate School graduate, worked in the nonprofit sector in Santa Barbara for sixteen years, developing and implementing programs, curricula, and training materials for local organizations.
She's especially proud of her accomplishments with Body Electric, a nonprofit she co-founded in 1997 to promote participation, recognition and celebration of local women and girls in sports and physical activity.
She has spoken to thousands of people, both youth and adults, on topics ranging from domestic violence and healthy relationships, to gender equity and Title IX, to public speaking and presentation skills.
Mario Flores
Mario Flores is the founder and President of Top Notch Coaching, LLC, an executive and professional business coaching company specializing in Leadership Coaching for the Financial Executive and Financial Professional. Prior to his retirement, he worked for over 36 years with Verizon/GTE with over 18 years at the Executive Leadership Level in Finance and Operations. Mario has excellent business acumen developed through a career that systematically evolved from professional discipline to business leader. His professional evolution is rooted in strong financial fundamentals in Accounting, Regulatory, Financial Planning as well as business fundamentals in Business Analysis, Supply Chain Management, Retail Markets and Operations.
Mark Ewing, PHR
Mark Ewing is a high school math teacher turned Human Resources professional. His first experience in HR was as Executive Director at a nonprofit outdoor camp and retreat center, where he discovered his love for people and development were a natural fit in this new industry. Since then, he has served as Recruitment & Training Manager and Staffing Director for youth and service-oriented nonprofits in Oklahoma and Colorado.
Michael Mirarchi
Michael J. Mirarchi is recognized as a leading expert in employment-related lawsuit prevention. As an Employee Relations Counselor, he is dedicated to helping employers stay litigation-free. Drawing from over 30 years of experience in employment and labor law, as an employer defense attorney and as a Human Resources Vice President, he developed a unique litigation-avoidance program. Through it, participants acquire significantly increased practical knowledge and a higher level of confidence in addressing employee relations issues than they have ever had before. He has presented his "Reset the Clock" program over 1,200 times to more than 28,000 leaders at employer facilities across North America.
Michelle Tillis Lederman
Michelle Tillis Lederman, named one of Forbes Top 25 Networking Experts, is the author of four books including the internationally known, The 11 Laws of Likability, and her latest book, The Connectors Advantage. Michelle is the founder and CEO of Executive Essentials, which provides customized communications and leadership coaching and training programs. Michelle believes real relationships lead to real results and specializes in teaching people how to communicate with confidence, clarity, and connection.
Shannon T. White
Shannon T. White, MSW, LCSW is a Speaker, Mental Health Therapist, Coach and Consultant, whose personal and professional desire is to teach and develop professionals that advocate for and promote wellness as well as diversity, inclusion and the empowerment of disadvantaged people in the workforce and society. Shannon possesses over 20 years of professional experience in the field of Mental Health and Social Services, with over ten of those years focusing on the education and development of mental health and other related professionals.
Tina Hallis, Ph.D
Tina Hallis, Ph.D. is the founder of the Positive Edge. She is certified in Positive Psychology through the WholeBeing Institute and a Professional Member of the National Speakers Association. She is the author of Sharpen Your Positive Edge: Shifting Your Thoughts for More Positivity & Success. Tina worked for 20+ years in Biotechnology before discovering a new science called Positive Psychology in 2011. Seeing the powerful impact this information has on improving people and organizations, she decided to create her own company, The Positive Edge. Her focus is to share insights and strategies that help employees, managers, and leaders build their positivity skills. Studies show that increased positivity activates our ability to learn and make better decisions, broadens our perspective to see more possibilities, improves our interactions and relationships, and strengthens our resilience to stress and overwhelm.